---
RA by Piet Hein
Ra reborn. The latest product launches also feature one of Piet Hein´s first inventions. The initial sketches of the Ra lamp were made by Piet Hein in 1931 when he was only 25 years old. It is amazing to see how thoroughly modern this beautiful product looks, despite it dating back 75 years. The lamp went into production in 1939 and remained in production for some years. In 1969 it underwent a renaissance it matched the design of the time and looked very attractive in the new, strong colours of that age such as turmeric, bright red and glowing orange. The Ra lamp 2006 has been designed and produced according to the original drawings, and given its dependable design enjoys more current appeal than ever.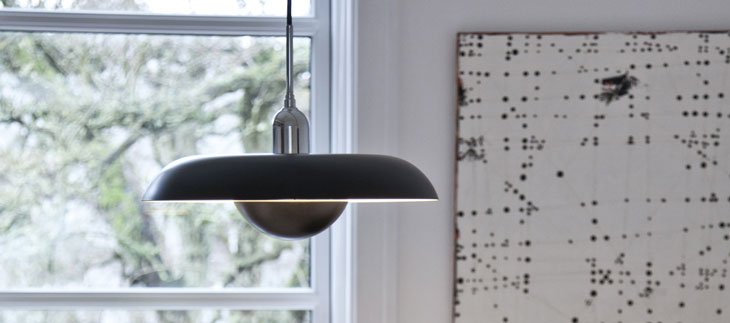 The ceiling lamp has re-emerged in contemporary new colours and materials. We have kept the classic black, and the ultimate subtle model in opal glass ´ but we are also launching contemporary colours such as lime that match today´s interior design. The Ra lamp is very pleasing to the eye and is made in such a way that when you look inside, the light seems very weak. But if you look at the light it casts on the surroundings, the difference is remarkable. The lamp gives off a light that is inviting to the eye and makes it a pleasure to use, whether for work, a get-together around the dinner table or a good read. The explanation is that the Ra lamp´s design utilises Piet Hein´s isolux surfaces, which serve to evenly distribute the light. The lamp was first described in 1932 in the Danish publication ´Fysisk Tidsskrift´ by Piet Hein himself, who said about light glare: ´Its effect is least when the given quantity of light is evenly distributed over the surface area available.

The principle entails covering the normally exposed bulb so much that it does not glare, yet still illuminates the surface at the top of the lamp sufficiently for it to give off a correct light into the room.